Wednesday Dec 01, 2021
Money Mindset & The Holidays: Beliefs, Narratives, Allowances and Changing our Relationship with Money!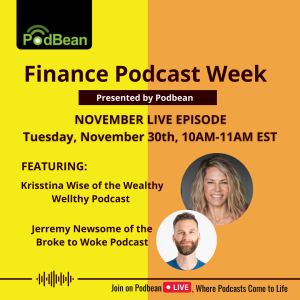 This episode is a recording of a live episode from the Finance Podcast Week live program.  
...
Kristtina Wise of the Wealthy Wellthy podcast joins Jerremy Newsome of Broke to Woke as they dive into Money Mindset, what that means for each and every one of us, and what beliefs we may have around money as we enter the holiday season!
...
Finance Podcast Week is brought to you by Podbean!
Podbean is a podcast publishing and monetization service, hosting over 500,000 podcasts. If you're looking to start your own podcast, monetize your podcast and livestream directly to your listeners, you can set up an account at podbean.com